Why a SunShade Retractable Awning is the Best Choice for Your Home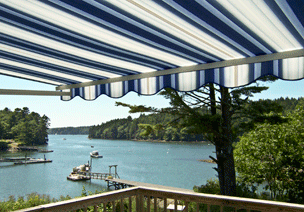 Enjoy your backyard like you never have before, with a SunShade Retractable Awning by Gutter Helmet®.
Your awning will bring your backyard into your home, while giving you protection from the sun at any time of day. Each SunShade Retractable Awning is custom made, with hundreds of fabric colors and patterns to choose from.
Plus, your SunShade Retractable Awning comes with an outstanding warranty—Frame: 10 Years; Fabric: 10 Years; Motor: 5 Years.
Block the sun, lower your energy costs, and love your backyard all at once!
With a SunShade Awning
Reduce air-conditioning costs as much as 25%.
Add new life & value to your home
Control room brightness by extending & retracting your awning.
Block out the sun, not your view.
Without a SunShade Awning
Sunshine heats up your house—A/C gets adjusted—increases energy usage.
Summer sun exposure to UV rays damages & fades outdoor furniture.
Blinds & drapes block the view of your outdoor space.