Beauty in Design:
SunShade's Retractable Awning Features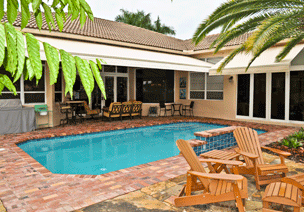 The SunShade Retractable Awning by Gutter Helmet® is designed and engineered with frame components that are compact, mechanically invisible, and aesthetically appealing.
SunShade awning frames have a durable, electrostatic, baked-on, powder-coated white finish that is up to four times thicker than paint.
The color-coordinated caps on all nuts and bolts and mounting hardware complete the distinctive finishing touches to your beautiful SunShade Retractable Awning.
Best Awnings in the Business
The Sunshade Retractable Awning by Gutter Helmet is designed with quality as the primary focus, eliminating the inconvenience of manually installing and removing pins, upright poles, or other braces.
Key Awning Design Features
Shoulder & Torsion Bar: the arm shoulder is attached to the unique torsion/mounting bar, keeping the awning arms set rigidly at the proper pitch.
Manual Gears: complete with automatic stop to allow quick, effortless operation, and prevent overextension or reverse winding of the fabric.
PVC-Covered Arm Cables: covers blend with the frame color and eliminate salt, sand, & moisture corrosion.
Front Bar: stronger front bar to provide stability and maintain the fabric's tension while presenting a contoured and compact appearance.
Frame Components: nuts and bolts are made from only the finest corrosion-resistant stainless steel.
Fabric Roller Tube: the fabric roller tube is made of the same special material as the torsion/mounting bar. This allows the roller tube to torque under stress and return to its original shape.
Arms: bend occurs at the elbow to maintain constant fabric tension.
Little Big Arms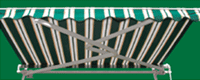 For shading narrow widths and large projections, the Sunshade Retractable Awning by Gutter Helmet offers Little Big Arms that fold over each other when your awning is retracted. When space is restricted, the SunShade Retractable Awning frame may be customized for the coverage you need.
Adjustable Tilt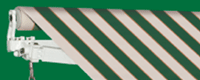 The Adjustable Tilt shoulder offers easy slope adjustment with a hand crank, adjusting from 0 degrees to a full 40-degree arm pitch. The Tilt shoulder option is a great solution for low-sun problems.
Wireless Motor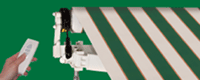 Because the SunShade Retractable Awning offers a wireless motor option that uses a standard electrical outlet, there is no need for expensive rewiring. Our heavy-duty motor is located inside the fabric roller tube, and can be switch-operated or remote-controlled. Manual override motors, which are a gear/motor combination, are also available for manual operation during power outages.